BOSCH 6000 Alarm System | Alarm installer-Espy Alarms Australia
BOSCH Alarms - Solution 6000
The Integrated Access Control and Alarm System made for Commercial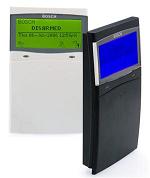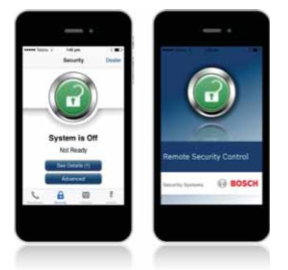 Main Features
- Integrated access and alarm

- 1
6 access doors or LAN readers

- Up to 144 zones & 256 users
- Full text menu display for programming & user control
- Proxomity, biometric and external readers, with external keypad options
- Supported communication formats include Conettrix IP, GSM, SMS, email. CID, GPRS, CVS IP, SIA 3+ text, Voice
and Domestic Dial
- SMS via BOSCH GSM & SMS panel control i.e arm or disarm
-

Up to 37 outputs available with one on board dedicated relay programmed for roller door
Simple Operation
The standard BOSCH keypad features a graphical user interface that incorporate a text driven menu system. Colour coded, illuminated keys make it east to operate your security system, day or night. Red and green indicators provide easy idenitification of Armed and Disarmed modes, and built in sounder provides audible feedback when operating the system.

An enhanced version of the Graphic Keypad incorporates a built-in proximity reader, allowing users to simply present their token to the keypad to arm/disarm and or unlock a door in one simple action.
Easy Remote Arming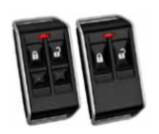 The Solution 6000 can be programmed to use a wireless remote that easily fits onto your keyring. These small remote controls allow you to arm and disarm your business premises by simply pressing one button.

The wireless remote can also be used to set the system in STAY mode, act as a portable panic button, and can even be used to switch lights and open factory gates & doors.
IP Module
Bosch 6000 can have the IP module to connect to the alarm panel.
This will require a cable from the panel to your home router. The Bosch 6000 also has a wifi keypad which remote the need to run cabling to the router. There is an option for a one off lifetime, but it will only provide arm/disarm. No notifications to the panel. Notification via push button notification is $11/month (included GST).
My Alarm iFob Control APP
Use the app to arm an area or to check zone status, unlock a door or operate an output all in real time status feedback.
Your security system must have an internet connection which will be installed and configured by our Technician.
Multiple sites are supported meaning you can easily interface to your home, your office or your holiday house when required. All events performed via the app are recorded in the system history log and as users are required to log on using their PIN only areas and doors they have acces to can be controlled.

The area control screen shows the current status or the area(s) as well as the condition of the zones in the are and if any trouble conditions are in effect. An optional panic button can be enabled allowing the user to trigger a panic alarm by holding the button for 3 seconds. Up to 4 optional shortcut buttons can be created to control any combination of doors or outputs from the area screen.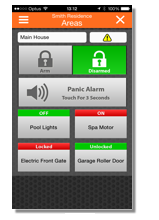 iFOB Control PAY ONCE
Features:
iFOB Control APP
100 Push Notification per month
Assist Solutionlink
ONE off Cost
Details:
This plan is a ONE off cost with 100 push notifications from the panel each month.
The iFob Control APP allows authorised user to arm/disarm areas, bypass zones, operate outputs and unlock door..etc
Perfect for customers who want the benefits of APP control and some notifications without the ongoing fees.

Requirement:
Panel must have an IP connection either via ethernet (CM751), Wifi (CM741) or 3G Celluar (CM744) radio with customer supplied SIM Card.

Reporting Lite
Features:
iFOB control APP
Assist Solutionlink
Email Reporting
Push Reporting
SMS Reporting
Polling (12 hours)
Details:
Reporting is available via Email, SMS, and/or Push notification directly to the APP